Redmi Note 11 Pro (2023) with Snapdragon 712 spotted at the Google Play Console
Occasionally Xiaomi re-releases old phones with a slight refresh, like the Redmi Note 8 2021, for example. Info on the Google Play Console reveals that there is another such model on the way for next year – the Redmi Note 11 Pro 2023 (code name "sweet").



Redmi Note 11 Pro (2023), image from the GPC (possibly a reused image of the Note 10 Pro)
This is a follow-up to the Redmi Note 11 Pro from this year, although with a different chipset and different camera layout. According to the GPC, the 2023 edition will be powered by the Snapdragon 712.
That wasn't the most impressive chipset of early 2019 and it will be even less impressive next year. Old as it is, it should hold its own against the Helio G96 inside the 2022 model, but it will not be an upgrade in terms of performance. It might be more efficient, though, as it was fabbed on a 10nm process (vs. 12nm for the Helio).
Interestingly, the changed camera layout makes it look exactly like the Redmi Note 10 Pro, which is powered by the more recent (and more powerful) Snapdragon 732G. The 10 Pro has nearly the same camera setup as the 11 Pro too: 108MP main, 8MP ultra wide, plus 2MP depth. The only difference is that the older model had a 5MP macro camera, the newer model a 2MP one.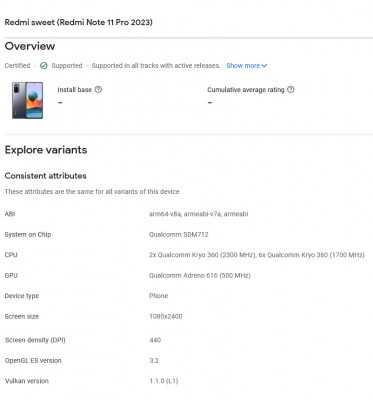 Snapdragon 712 chipset, 1,080 x 2,400px display (a 6.67″ AMOLED, presumably)
At this point you may be wondering why Xiaomi doesn't just keep selling the Redmi Note 10 Pro. The 11 Pro has faster charging (67W vs. 33W) and a brighter display (700 nits vs. 450 nits peak), but it's not clear whether the 2023 model will retain these advantages. Also, the 10 Pro had 4K video recording, which the 11 Pro lost.