A SIM card is required for calling from every mobile phone. What if the storage space of the smartphone also increases as soon as the SIM card is installed? Even though the trend of eSIM has also started, but only removable SIM cards are used in most smartphones. You know that only with the help of a SIM card can you be connected to the service provider and the services available from it can be used. Future is also pointing to advance the SIM card and soon your SIM can be converted into SuperSIM.
All the smartphones in the market have built-in storage, which includes the phone's operating system, pre-installed and downloaded apps, photos, videos and other files. Some smartphones offer the option to install a microSD card, which can increase their storage space. At the same time, now this option is not available in many devices coming in the market.
If the storage of such a device becomes full, then you have to delete the old files, or backup them and save them in the computer.
Hybrid SIM card slots are also being offered in many smartphones, in which one SIM card and microSD card can be installed, but in case of using two SIMs, you cannot install a microSD card. In such a situation, SuperSIM can be a great option for you. In Super SIM, a SIM card and a microSD card are combined into a single card. The first Super SIM was launched in China last year, with storage options ranging from 32 GB to 128 GB.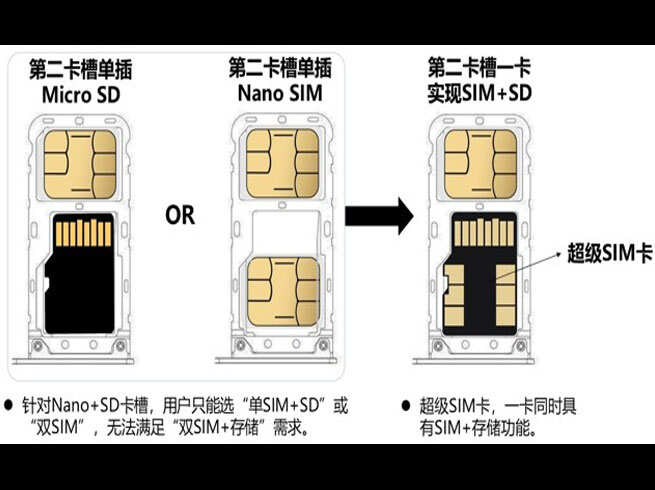 Only 128KB of storage is available in the Traditional SIM, so the new Super SIM gives users the option to store manifold data. Apart from this, one-click backup and restore option is also provided in Super SIM, with the help of which you can easily restore the data of the old device by inserting the SIM in the new smartphone. Super SIM cards have read and write speeds of up to 90Mbps and 60Mbps and come with CC EAL + security certification, which means that your data remains completely safe.
The advantage of Super SIM is that the user does not have to choose either a SIM card or a microSD card. The same card functions like a SIM and microSD card in a hybrid SIM card slot. Apart from this, manufacturers can remove the triple card tray and give a hybrid SIM slot and they will get space in the device for larger batteries or extra components. It has to be seen whether network operators adopt it or not. Apart from this, manufacturers like Apple or OnePlus are also not offering the hybrid slot in the device. There is no doubt that the Super Sim Network is a great opportunity for the providers and in the coming time it can be given to the customers as an option. video